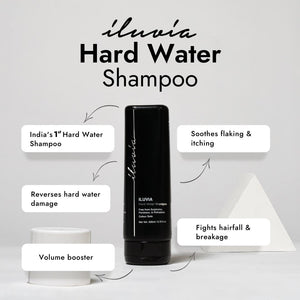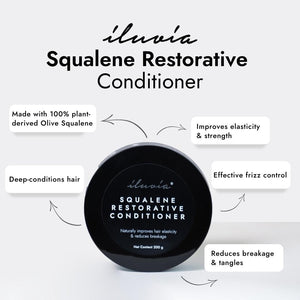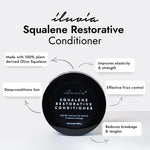 Cruelty free | 100% vegan | Hypoallergenic | No parabens | No SLS
| No artificial dyes | No phthalates | No SLES | ph Balanced
| Cruelty free | 100% vegan | Hypoallergenic | No parabens | No SLS
| No artificial dyes | No phthalates | No SLES | ph Balanced
2 Simple steps.
Gorgeous hair, everyday.
Hair & Scalp detox
Hard Water Shampoo
Gently removes mineral deposits left by hard water from hair and scalp with natural chelating agents, and protects hair against further damage with advanced water soluble silicones.
More
Strengthen Hair
Squalene Restorative System
Naturally softens, strengthens, and thickens hair with the goodness of Olive Squalene, and controls frizz and breakage with Moroccan Argan Oil.
More
Your hair needs and deserves
iluvia Professional Hair Care
Cleanse
Mix the Shampoo with a few drops of water
Gently massage the Shampoo into damp hair and scalp
Rinse thoroughly with lukewarm water
Strengthen
Squeeze out excess water from hair and apply the conditioner from mid-length to ends avoiding the scalp
Leave in for 5 minutes. Apply a hot towel/ steam+cling wrap for best results.
Rinse out product with normal water
*Follow up with the iluvia Intensive Hair Care Serum for best results
Combo System recommended by salon stylists for
Hair Length:
Up to Shoulder Length
Hair Condition:
Undamaged to Moderately Rough / Dry (Very Low to Medium Porosity) Coloured Hair Compatible.
Experience the

iluvia professional difference.
Advanced, research-backed, scientifically proven hair care regimen trusted by professional stylists across the country.
Not effective at all ,
Not effective at all. Just a regular shampoo.
Hi Rashi,
The products from iluvia are designed as shampoo and conditioner but with different formulations to solve for different haircare concerns. We would be most happy to connect on contact@renaura.com and solve for any specific concerns or deliver results that you are looking for. Thank you
So far so good!
After 4 washes, I feel my hair has been rejuvenated. Hair has become softer and tangle free. Would review again after finishing up the bottle.
Thank you Arunima. We are hopeful the good review will be consistent!
Hard water shampoo
The shampoo has a very different texture and lathers easily. I've used it twice and yet to see the results. Hair fall has decreased a tad bit i feel. I follow it up with a earth rhythm cleansing shampoo which in total leaves my hair manageable and soft.
Magical shampoo
It works like magic,started working from first wash & in few washes hairfall came down to normal.
Hair quality too has improved.loving it