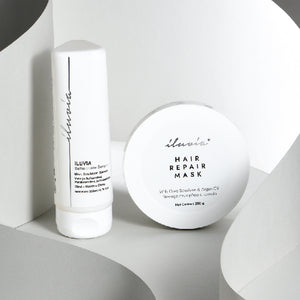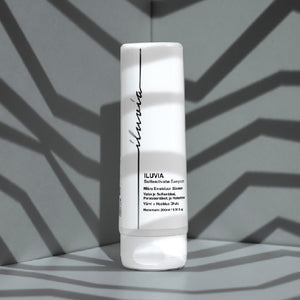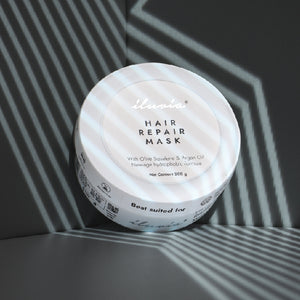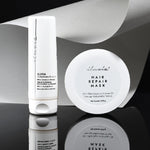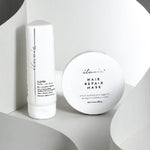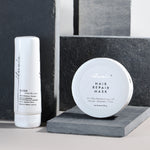 Cruelty free | 100% vegan | Hypoallergenic | No parabens | No SLS
| No artificial dyes | No phthalates | No SLES | ph Balanced
| Cruelty free | 100% vegan | Hypoallergenic | No parabens | No SLS
| No artificial dyes | No phthalates | No SLES | ph Balanced
2 Simple steps.
Gorgeous hair, everyday.
Gentle cleansing for porous hair
Sulfate Free Shampoo
Protects damaged hair and sensitive scalp from dryness and dullness. Gently cleanses the hair and restores its natural shine. Its mild formula is suitable for coloured or chemically processed hair. The unique Micro Emulsion formula effectively cleanses porous (damaged) hair. Prevents frizz, breakage, and dryness, leaving hair soft, supple, and managed from the very 1st use.
More
Strengthen Hair
Hair Repair Mask
Humidity-resistant, anti-frizz hair mask that repels damaging moisture. Helps repair dry, brittle, chemically treated hair and protects from humidity. iluvia's Hydrophobic Hair Repair Mask uses breakthrough ingredients that gives gorgeous, gleaming, red carpet ready hair, every time.
More
Your hair needs and deserves
iluvia Professional Hair Care
Cleanse
Wet the hair with lukewarm water
Gently massage the Shampoo into damp hair and scalp
Rinse thoroughly with lukewarm water
Revive
Squeeze out excess water from hair and apply the mask from mid-length to ends avoiding the scalp
Leave in for 3-5 minutes.
Rinse out product with cool water
*Follow up with the iluvia Hair Protection Serum for best results
Combo System recommended by salon stylists for
Hair Length:
All Hair Lengths
Hair Condition:
Damaged or porous hair that is normal to dry. Specially recommended for coloured and treated hair.
Experience the

iluvia professional difference.
Advanced, research-backed, scientifically proven hair care regimen trusted by professional stylists across the country.
Shampoo is very good my dry damage hair is now silky or shinny
Thank you Anuradha! We do recommed trying the Hair Protection Liquid for additional shine and protection when styling or drying hair or before heading out!
BEST SHAMPOO...
AS I HAD USED SINCE 2MONTHS... ITS A AMAZING EXPEREINCE AS MY HAIR GETS SOFT & SHINY TOO....
Thank you Shalini for your kind words!
Softer hair
I am overall satisfied as my hair is softer, I feel an improvement.