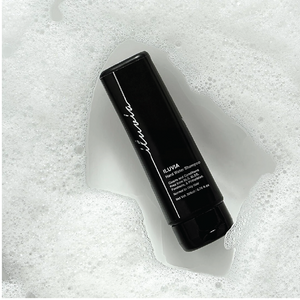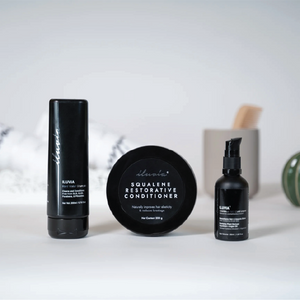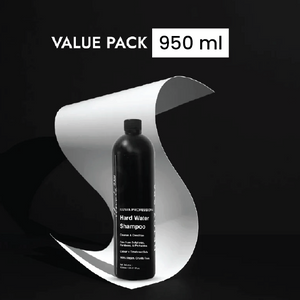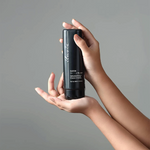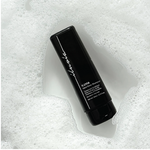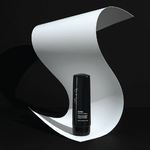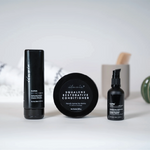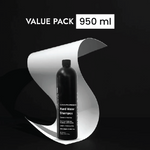 Get The System
100% Cotton Bathrobe - Honeycomb Weave

950ml Pump

+

100% Cotton Bathrobe - Honeycomb Weave

950g Pump

+

Intensive Hair Care Serum

50ml Pump

+
Cruelty free | 100% vegan | Hypoallergenic | No parabens | No SLS
| No artificial dyes | No phthalates | No SLES | ph Balanced
| Cruelty free | 100% vegan | Hypoallergenic | No parabens | No SLS
| No artificial dyes | No phthalates | No SLES | ph Balanced
Professional hair care regimen for
stronger roots
extra bounce
voluminous hair
Know your water
Over 70% of India receives water that is classified as mild to very hard. If you've noticed your taps/faucets/shower heads having white, scaly deposits, chances are, you are part of that 70%.
Hard water leaves harsh metal-ion deposits on the scalp making it dry, brittle, sticky and weakened. It blocks the pores and causes hair to grow thinner, aggravates scalp conditions like dryness, dandruff, eczema, and flaking over time. It also reduces the efficacy of keratin, smoothening, and hair treatments.
Know your shampoo
Traditionally shampoos to combat hard water were very harsh on hair and not easily accesible. iluvia HWS is designed from the ground up to gently but effectively remove metal ion deposits from hair and scalp. Iluvia does this with naturally sourced chelating agents that bind to metal ions deposited from hard water and gently remove them. The shampoo mildly conditions the hair and prevents further deposition of metal ions by neutralising charge on the hair with advanced water-soluble silicones.
Know your benefits
Iluvia Professional Shampoo combats hairfall and breakage, softens, and adds significant volume to your hair. It cleanses the scalp and leaves hair considerably lighter and cleaner. Iluvia is dermatologically tested and is suitable for coloured and treated hair too. Recommended pairing of Squalene Restorative System to improve hair cuticle elasticity and reduce hair friction.
Get The System
Hard Water Shampoo

200ml Bottle

+

Squalene Restorative Conditioner

200g Tub

+

Intensive Hair Care Serum

50ml Pump

+
Pro Salon Care. Now At Home.
Professional transformation in

3 simple steps
1
Apply the Shampoo after wetting hair with lukewarm water
2
Gently massage the Shampoo into damp hair and scalp
3
Rinse thoroughly with cold water
Strengthen your hair after wash with
Minimize hairfall, breakage, & flaking due to hard water.*
Advanced chelation:
Removes harsh metal ion deposits such as Calcium, Magnesium, Iron, and Copper.
Water soluble conditioning:
Keeps hair clean, fresh, and reduces dryness and frizz.
*vs. non-conditioning shampoo
Experience the

iluvia professional difference.
Advanced, research-backed, scientifically proven hair care regimen trusted by professional stylists across the country.
Amazing- gives a nice bouncy look
Very Good Shampoo
Not all shampoo works for me.. But this worked and stopped my hairfall completely. But sometimes it makes hair dry... But i apply sometimes oil based shampoo to avoid that...
Hard water shampoo
Hi,
After using the hard water shampoo for more than 10 days. What i feel is it gives a improved dense hair, but the hair fall and hitching in the head remains unchanged. Is there anything can be done to stop this ?
So far, good
I have very oily hair/scalp with a lot of sebum production and also my hair follicle pores were getting blocked due to hard water build up. I decided to give Iluvia Pro a try after seeing the ads and so far, it looks like it is working well (I have done 4 washes till now). It keeps my scalp/hair clean and the hair doesn't go too limp even two days after wash.
Average
I didnot bought illuvia conditioner so it means shampoo will do nothing ,it will not play its role ??
HI Shweta! Thank you for purchasing the Hard Water Shampoo. As a professional product the Squalene Restorative System and Intensive Haircare Liquid are strongly recommended as a part of the Complete Haircare System. The Hard Water Shampoo is designed as an effective cleansing product and cannot replace the need of a conditioner/mask to help manage hair quality and/or damage, dryness that may occur due to hard water related metal ion deposits. The Squalene Restorative Conditioner is the ideal combination for helping to improve elasticity and maintain natural softness.