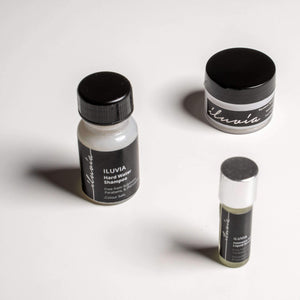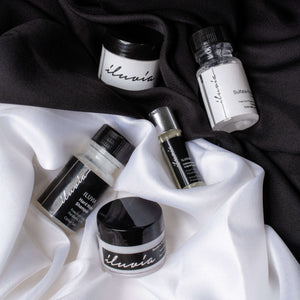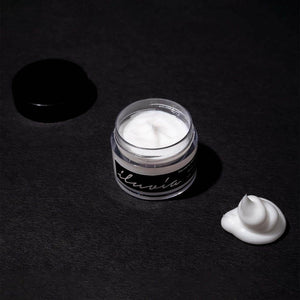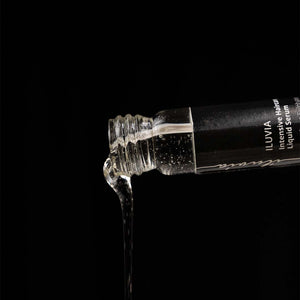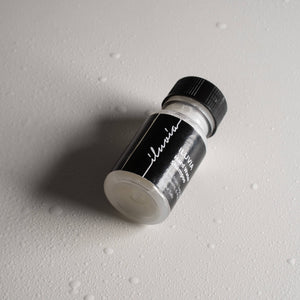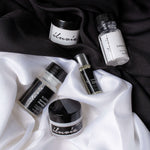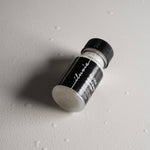 Cruelty free | 100% vegan | Hypoallergenic | No parabens | No SLS
| No artificial dyes | No phthalates | No SLES | ph Balanced
| Cruelty free | 100% vegan | Hypoallergenic | No parabens | No SLS
| No artificial dyes | No phthalates | No SLES | ph Balanced
What is in this kit?
Our Mini Versions
Hard Water Shampoo
3X
12ml
Squalene Restorative Conditioner
3X
10g
Intensive Hair Care Liquid
3X
4ml
Get The iluvia
Complete Professional
System Full Range
Get The iluvia
Complete Professional
System Full Range
Suggested For
Suggested For
Hard Water Areas
High TDS (Total Dissolved Solids)
High Calcium, Magnesium, Iron content in water
Borewell Water Supply, Coastal Areas with salty/brackish water
DID YOU KNOW
Hard water makes hair feel sticky and flat. Increases chances of breakage, discolouration & hair loss
Suggested For
Suggested For
Active Lifestyle
High sweat conditions such as intense exercise, steam room
Hot, very humid cpmate areas
Sticky, oily, greasy hair
Hair looks dull, flat. Low volume
DID YOU KNOW
Sweat or perspiration contains salt that combines with your scalp's natural oil (sebum) to make hair sticky and greasy
Suggested For
Suggested For
Oily, Flaky Scalp
Normal to oily scalp which feels greasy within 24hrs of wash
Oily, flaky dandruff caused due to high sebum output or high fungal activity on scalp
DID YOU KNOW
High sebum production or an unclean scalp due to metal ion deposits can increase fungal activity which results in flaking & itching
Not Recommended For
Dry scalp and very frizzy Hair
For Bleached, or Highlighted Hair
For Wavy, Curly & Coily Hair
Try This
For Dry Scalp & Very Frizzy Hair
Pro Maintenance System
Try This
For Bleached, or Highlighted Hair
Colour Lock System
Try This
For Wavy, Curly & Coily Hair
Repair Reviver System
How iluvia CPS helps ?
Gently & effectively removes metal ion deposits (Ca, Mg, Fe). Minimises further deposition with its unique formulation
Clean hair & lghtweight conditioning allows hair to be free flowing & enhances volume naturally
Enhances shine and protects hair from heat imparted by dryers and styling tools
How it Works ?
Step 1
Purchase the most suitable 3 wash challenge combo for your hair
Step 2
Receive a coupon for the trial product value of your 3 wash combo (Rs.300/-)
Step 3
Redeem against purchase of any full size retail product on www.iluviapro.com (T&C Apply)
Experience the
iluvia professional difference
Advanced, research-backed, scientifically proven hair care regimen trusted by professional stylists across the country.
NOT HAPPY
I didn't worked as described on website.
Hairfall didn't reduced.
Please help to do next?
Hi Fahad, We are sorry to know our trial products did not deliver the desired results for you. Hairfall is a complex issue which requires input from certified professionals but can be due to lack of elements in diet, imbalance in hormones, genetic or due to external factors like hard water use, unclean environment, or fungal (dandruff or skin) concerns. Our products are designed to work for various factors but internal factors cannot be addressed by products alone. We suggest discussing your concerns with a dermatologist or certified trichologist to best assess your concern.
Grail of rebirth
Totally a grail of rebirth to my damaged hair..
Post the keratin treatment and huge list of products
Finally loved how my hair felt more alive with just 3 washes
Very satisfied
Thank you Aishwarya. We are delighted the trial versions worked out well for you!
Good shampoo
Gud shampoo with gud fragrance.tried this 3 wash challenge hair feels good and smooth after using this hard water shampoo.
Tried the hard water set!
It was amazing! I trust the products and would love to recommend the hard water shampoo conditioner and serum!
Iluvia 3 wash challenge feedback
Hi. I am glad that there is such option of a 'tester pack' / '3 wash challenge'.
It's definitely a meaningful & much needed option for consumers.
In my case, while the result after the first wash was good (my hair felt softer and more manageable and low on frizz), post second wash my hair felt so dry i couldn't run my fingers through it. I also noticed more hair-fall compared to first wash. Third time, hair is slightly better but dry and lot of hair fall again.
It's a mixed review and hence contemplating if i should buy the shampoo for regular use or not.