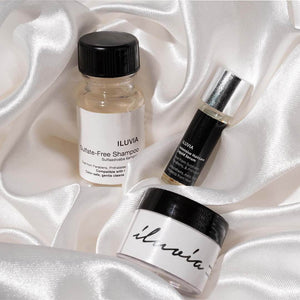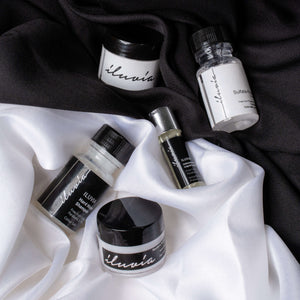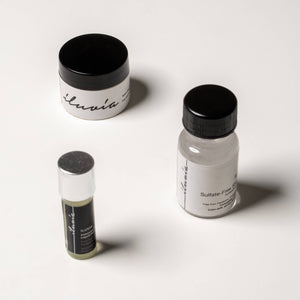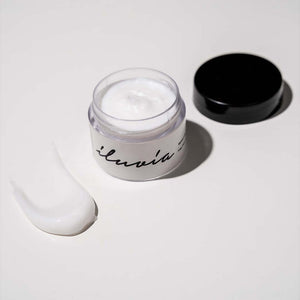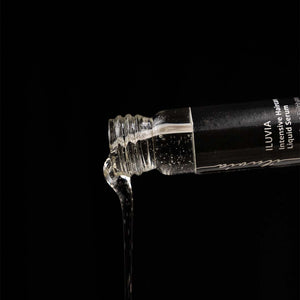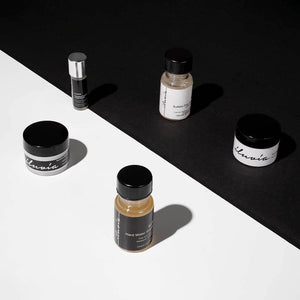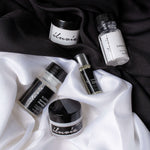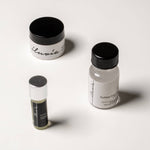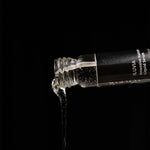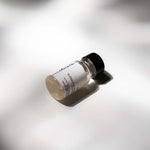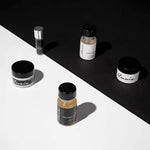 Cruelty free | 100% vegan | Hypoallergenic | No parabens | No SLS
| No artificial dyes | No phthalates | No SLES | ph Balanced
| Cruelty free | 100% vegan | Hypoallergenic | No parabens | No SLS
| No artificial dyes | No phthalates | No SLES | ph Balanced
What is in this kit?
Our Mini Versions
Sulfate Free Shampoo
3X
12ml
Hair Protection Liquid
3X
4ml
Get The iluvia
Pro Maintenance
System Full Range
Get The iluvia
Pro Maintenance
System Full Range
Best Suited For
Best Suited For
Dry, Oil-free Scalp
Naturally Ddy, oil-free scalp
Hair requires infrequent washing (2 times or less in a week)
Primarily indoors, air-conditioned environment
AC dries the scalp
Air conditioners remove moisture and dust from air. This reduces humidity and can dry the skin, scalp
Best Suited For
Best Suited For
Porous, Damaged Hair
Bleached, chemically processed hair has increased porosity
Porous hair appears dry, dull, with visible damage
Porous hair is characterised by high frizz, especially in humid, coastal environments
DID YOU KNOW
Frizz in humid or coastal areas is caused due to the swelling of hair as the moisture breaks down the temporary hydrogen bonds
Best Suited For
Best Suited For
Frizzy, Treated Hair
Frizz in hair is majorly due to the uneven swelling of hair due to moisture
Bleached, coloured, grey hair are more prone to frizz
Coastal areas with high humidity
DID YOU KNOW
Hydrophobic hair products mimic the structure of lotus leaf. They repel moisture while protecting hair from frizz
Not Recommended For
For Oily and greasy scalp
For Bleached, or Highlighted Hair
For Culry and Coily Hair
Try This
For Oily & Greasy Scalp
Complete Professional System
Try This
For Bleached, or Highlighted Hair
Colour Lock System
Try This
For Curly & Coily Hair
Repair Reviver System
How iluvia CPS helps ?
Gentle, pH balanced formula that is suitable for cleansing porous, compromised or dry hair
Hydrophobic mask which enhances the natural ability of hair to fight frizz and maintain softness
Pure Argan Oil promotes free radical protection, enhances shine and tames frizz naturally. Can be used on skin as a natural moisturiser, makeup remover and emollient
How it Works ?
Step 1
Purchase the most suitable 3 wash challenge combo for your hair
Step 2
Receive a coupon for the trial product value of your 3 wash combo (Rs.300/-)
Step 3
Redeem against purchase of any full size retail product on www.iluviapro.com (T&C Apply)
Experience the
iluvia professional difference
Advanced, research-backed, scientifically proven hair care regimen trusted by professional stylists across the country.
Best results I have ever gotten in just 3 wash!
Just love the product. My hair got so smooth in just 3 wash. Highly recommend.✨
Thank you Anuja! We are truly delighted to get this feedback!
Exellent Results
It is really a best professional product I ever used. Earlier my hair was completely Frizzy and damaged but after using this iluvia Products "I am very happy to see drastically change in my hair.
I can share pictures as well if iluvia team required.
Thankyou :)
Happy customer
Hi Neha, We are extremely glad to know you got great results with the iluvia Complete Professional System. Please do share pictures with us on contact@renaura.com so we can share the same with our customer support team.